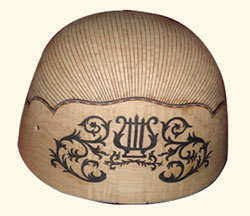 For the manufacture of a good instrument we should select right materials. And begin from the timbers that should be most excellent quality.
For the "skafos" we use "palisandro", "kelempeki", which are the white "skafi", walnut dyed black and natural, "mpantouk", mulberry, rose, "karagats", almond. In the Lid we use fir or cedar of most excellent quality.
In the hose we use "vegke" and "kelempeki". In the "karasylo" linden and in the "tastiera" ebony-tree.
For the figures we use veneer of timber, various plastic, acrylic and shells. Also we use various laces from timber.
The glues are also these of most excellent quality. Varnishes we use ball acrylic and polyurethane.
The keys that we use are Grover America, Saler Germany and from Japan of very good quality. The "chordieres" and strings are also these of good quality.