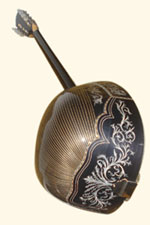 A music instrument is a part of ourselves therefore should respect and love as a small child or our favorite love.
The biggest enemy of the instrument is the high temperatures that is why we are trying to keep it in temperature of 15- 25 degrees Celsius. When however the temperature exceeds the 30-35- 40 degrees and the body remains unused for time or enclosed in a car then we should set our sights 2- 3 tonnes below.
The strings should be changed every month because when they lose their sound, they become duller so that they need tuning and they pester the body.
When changing the cords it is good to have car polish, so that we can rub well the "tastiera", clean the filths that are gathered in the intervals and polish the "tasta". Afterwards using cotton and oil [parafinelaio] we rubb it so that it will restore its blackens once again, we sweep well and we rubb the strings. Afterwards we clean the "kavalarides", where the strings step, in order for the sound to come out cleaner.
After every use we sweep well the instrument with a velvet fabric buckram and place it in his case, so that we protect it.